Hannah's Turtle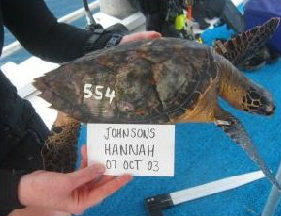 The vision of the Barbados Sea Turtle Project at the University of the West Indies is to restore local marine turtle populations to levels at which they can once again fulfill their ecological roles and provide opportunities for sustainable use, and to act as a catalyst for similar efforts in other countries in the Caribbean.
We visited the Barbados Turtle Project during a recent holiday there.

We asked them if they caught any turtles that hadn't been tagged to name it after Hannah. This one was caught on Johnsons Reef off the Tamarind Cove Hotel in Paynes Bay and it is now officially called "Johnsons Hannah".
The official website of The Barbados Sea Turtle Project