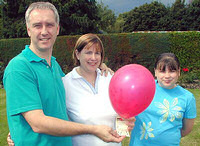 We are the Hayes-O'Connor family from Hampshire and this website is in memory of our four year old daughter and sister Hannah who we lost in an accident in August 2003.
Creating this site was one of our ways of dealing with our loss. We've been able to express and share our feelings and memories, and to gather together treasured pictures.
If you've suffered a similar loss maybe our experiences could help you - click here to learn more.
Someone who helped us a lot, just by being there, was Del. Find out more.