Del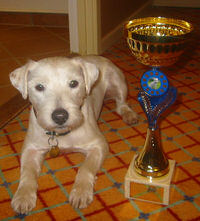 When you suffer the loss of someone close to you, company is so important. Be it a shoulder to cry on, comforting words or just knowing there's someone there for you.
Del was Hannah's dog and when she died he was there for us - every hour of every day. His gentle caring nature helped us through.
We were so proud of him that we entered him in the Coolest Canine competition - which he won!
For more information about pet therapy go here.