Help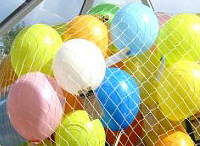 When we lost Hannah we were devastated and of course we thought life would never be the same again. Although our lives have changed and we will always miss Hannah we feel that by channelling our feelings in the way we have, we've made our lives bearable again.
Of course we received a lot of support from friends and family but we also received professional support from trained counsellors at The Shooting Star Childrens Hospice who provide care and support to children and young people living with a life limiting condition and their families.
We started looking at ways in which we could do something positive and perhaps repay Shooting Star for the support they'd given us, as well as raising money for other similar organisations.
Looking into ways of raising that money as well as keeping the memory of Hannah alive turned out to be a life turning process for us all.
We were turning a bad situation into something very positive. With Richards connection with the airline industry, one of our first successes was the Monarch Bear which continues to raise money to this day.
Other charity events along the way have raised thousands of pounds, not only for Shooting Star but also for Naomi House, a childrens hospice close to where we live.
By far our biggest charity event is the annual Hannah's Charity Ball, for which the organising manages to take up most of our year. We started the Ball the year after Hannah died and it's gone from strength to strength with our next ball always promising to be the best yet!
Childrens Hospices like Shooting Star and Naomi House receive no statutary funding and are entirely dependent on voluntary and charitable donations - one good reason why our fund raising must continue. The other, of course, being Hannah.